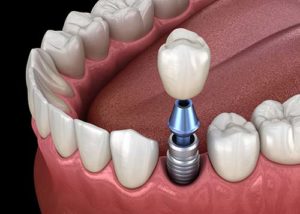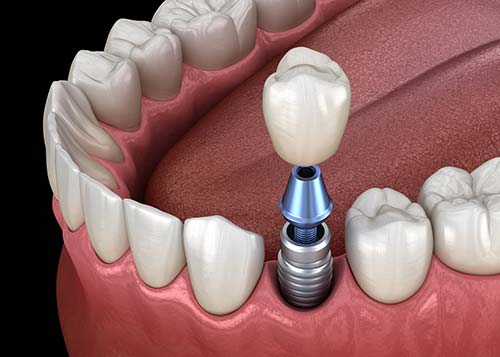 Lovett Dental Missouri City is a one-stop-shop for Houston, Texas residents looking for reliable dental implant services under one roof. You may consider a single-tooth implant or implant-supported dentures to suit your smile restoration needs. The dentist will work along with the periodontist and other board-certified dental specialists to ensure you get that confident smile.
If you've lost one or more teeth, dental implants may be an option to restore your smile. Please call Lovett Dental Missouri City today at 281-969-5099 to learn more about this cosmetic dentistry option.
What is a Dental Implant?
A dental implant is a prosthetic tooth root or metal post that replaces the natural tooth root from missing or extracted teeth. The screw-like post supports the replacement crown or implant-supported dentures. 
It can take 3 to 6 months to get dental implants from the first consultation to the placement of the permanent crown at Lovett Dental Missouri City. The timeline depends on whether the endosteal or subperiosteal surgical procedure is used and whether other dental implant services are necessary for preparing the gum or jawbone. 
Endosteal implants fix into the jawbone, unlike the subperiosteal tooth root, which doctors then insert into the gum just above the bone. However, bone grafting is necessary for in-the-bone implants. It can take a few months to augment the bone before implanting the tooth root. The endosteal process usually takes longer because the implant needs to fuse to the bone, and the gum must first heal (osseointegration).
Why Choose Dental Implants?
People who choose to get dental implants at Lovett Dental Missouri City do so mainly because tooth replacement with implants is aesthetically pleasing. However, this process offers other benefits, including:
A permanent way to restore your smile

No damage to adjacent teeth

Teeth look, feel, and function like your natural teeth. 

Easy to care for like your original teeth

Durability, longevity, and ability to enjoy the foods you love

A better alternative to removable

dentures

and bridges. 
Single-Tooth Dental Implant
Thanks to modern dental implant technology, your dental specialist can provide single-tooth dental implants services. A single-tooth dental implant will naturally restore your smile and may even boost confidence. Patients with a missing or extracted tooth can have the implant and a temporary crown placed on the same day.
A permanent, customized dental crown will replace the temporary crown after a few weeks. Filling the open space right away with the replacement tooth helps to keep the remaining teeth aligned and protect the gum. It also reduces the chance of jawbone loss.
Implant-Supported Dentures
The removable Snap-On Overdenture and Hybrid Fixed Denture are the two types of implant-supported dentures. They are suitable for people who are missing two or more teeth. Instead of resting on the gum like regular dentures, they are attached and supported by several posts or implants.
Implant-retained dentures allow for multiple teeth replacement at once while offering the stability and comfort conventional dentures do not provide. They feel and function like natural teeth, are difficult to tell apart from the original teeth, and will not slip out.
Dental Implants Services and Pre-Treatments
There are several steps for getting implants. The overall dental implant timeline before mounting the crown or dentures depends on various factors. They include the procedure used and the need to treat gum disease. 
Your dental specialist will do a detailed dental exam and take images of the teeth and jaw to determine if treatment for periodontitis is required or a tooth needs to be removed. The specialist will also let you know if you qualify for same-day dental implants. Other patients may need dental implants services or pre-implant treatments such as bone grafting, sinus lifting, or ridge expansion.
Request a Free Consultation for Dental Implants
Lovett Dental Missouri City can meet the needs of adults looking for dental implant services near them. We use advanced technology and 3D image scans for diagnosis and personalizing your treatment plan. We also offer a wide array of treatment options for those looking for a full-service dentistry office. Our treatment services in West Houston include:
Call Lovett Dental Missouri City today at 281-969-5099 or contact us online to schedule an appointment.