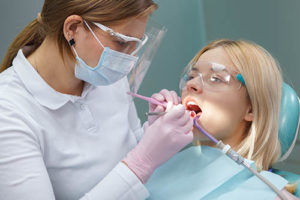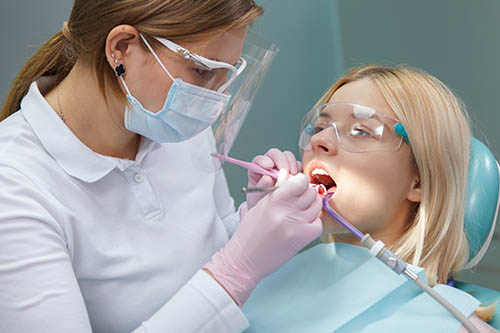 No matter how well you care for your teeth, sooner or later, you need dental services. Most people think of general dentistry when scheduling a teeth cleaning and exam. Yet, some people will wind up seeking specialty dental service at Lovett Dental Missouri City.
Specialty dental services go beyond general dentistry services. They address special conditions that arise and undergo additional education and training to do so. A specialist usually has two additional years of dental school education and training to become an expert at particular conditions. For instance, an orthodontist trained to straighten people's teeth and correct overbites and underbites is a good example with which most are familiar. There are many types of specialty dental services available in your community.
At Lovett Dental Missouri City, we're committed to having all of the treatment options our clients need, all in one convenient location. To that end, we provide a wide array of dental services. Whether you need specialty dental services, cosmetic dentistry, or general dentistry, we can help. To make your first appointment, please contact Lovett Dental Missouri City today at 281-969-5099.
Types of Specialty Dental Services
Many people seek dental specialist services but are unsure where to go. It helps to see a dental practice that has a strong history of serving the local community with multiple locations. Lovett Dental Missouri City has several locations and offers a full range of specialty dental services in our practice, including:
Lovett Dental Missouri City's full range of services and multiple locations in the Houston area makes it possible to get a full range of services under one roof. That helps you to save time and money on dental care. It also gives you the best possible oral health and a great smile.
Why You Might Need Specialty Dental Services
Specialty dental services treat a variety of conditions. Many will seek the help of a specialist after suffering an injury that damages teeth, treat an overbite or similar condition, remove wisdom teeth, or for a variety of other causes. From tooth removal to dental implants, our dental specialist services solve a wide range of problems afflicting people's oral health. Finding the right specialist, though, can be a task.
For most, their first specialty dental services at Lovett Dental Missouri City will involve children's dentistry. That is the best time to learn how to care for your teeth and ensure they last a lifetime. Hopefully, those teeth will last their entire life. As children grow into adulthood, the need for braces and removing wisdom teeth is a common experience. Fortunately, our dental specialists provide those services.
In addition, as we age, dentures often become necessary for many later in life. Decades of tooth decay, combined with common aging conditions, often cause people to need dentures by the time they become senior citizens. Younger people sometimes also need dentures but more commonly get implants to deal with tooth loss. No matter the age or the reason, throughout life, we likely need specialist dental services.
Schedule an Appointment Today
You don't have to let a dental condition ruin your smile. The experts at Lovett Dental Missouri City offer specialty dental services in your area and other nearby communities that will restore your smile. We can pull teeth or straighten and whiten them, regardless of age, with specialty dental services. We also offer a range of additional services, including:
Feel free to call us today at 281-969-5099, or contact us online and schedule an appointment right away. We can assess your situation and let you know the best options for treatment. We work with all kinds of insurance and several dental plans to make the service affordable. After your visit to Lovett Dental Missouri City, we can help you make your smile as dazzling as ever.